Our Tasting Room
---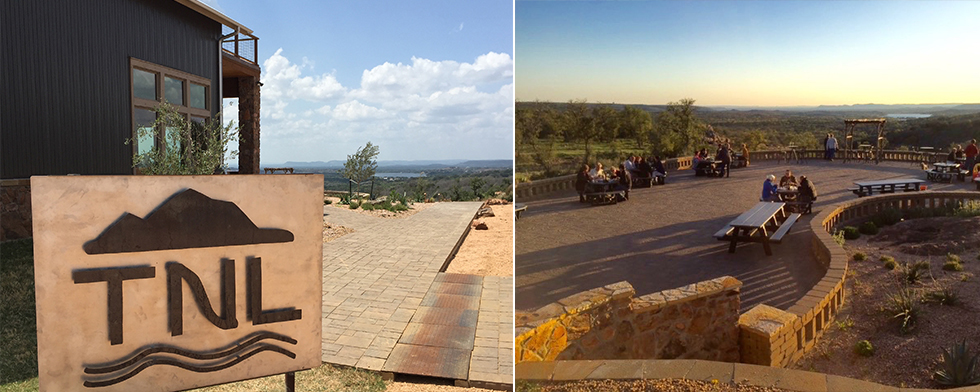 Torr Na Lochs Vineyard and Winery is located high above the Colorado River Valley in central Texas overlooking both Inks and Buchanan lakes.
As you enter the property, enjoy the leisurely half-mile drive over a granite gravel road up to the winery building. Along the way, look for Texas longhorn cattle gently grazing on the native blue stem grass on this working cattle ranch. Off to your right, you'll be able to catch a glimpse of Lake Buchanan and Buchanan Dam. This is just a sampling of the views to come. Continuing on your journey you will parallel our first vineyard on your left and enjoy the view of Malbec, Syrah, and Petite Sirah grapes growing in the decomposed granite soil. As you crest the final hill and head down to the winery, you'll notice Inks Lake peeking out from the front of the building. It is then you will know you have arrived.
Walking up to the winery, take a look at the rock wainscoting and columns on the building and ponder how all those rocks could have possibly been harvested from just three acres of vineyard. Upon entering the tasting patio, choose from a number of options for seating and tasting great Texas wines with an even greater Texas view. On a cool day perhaps you would prefer to sit by the fire pit on our 6500 square foot open patio, or perhaps you would like a bit of shade and prefer to sit under the cedar railed deck, taking a bit of breeze from the ceiling fans. Finally, for those hot Texas summers come on inside and cozy up to the wine barrel bar and enjoy the view through the 24 foot glass panel door in air-conditioned comfort. It will not matter where you sit because the view is always spectacular. Once you've made your seating choice, relax and enjoy the variety of Torr Na Lochs wines made from only Texas grown fruit. We look forward to sharing our passion and dream of a Truly Texas Wine Experience with you!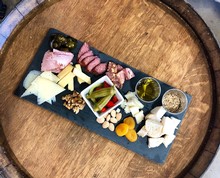 Food Options:
We offer a variety of food options to accompany our wines: a cheese plate, a charcuterie board, bruschetta platter, salad, and paninis. Wood-fired pizza and appetizers are available Fri-Sun. Please click on the Tasting Menu tab to view the full menu.
To make a booking or for further information:
512-766-0555
Hours
Noon to 5PM Tuesday, Wednesday, Thursday & Sunday
Noon to 6PM Friday & Saturday
We are closed on Easter, Thanksgiving Day, Christmas Eve, and Christmas Day.
Address
7055 W State Hwy 29
Burnet, TX 78611
We have live music on select Saturday afternoons with many local artists. Check out the Events page for dates!