Harvest RSVP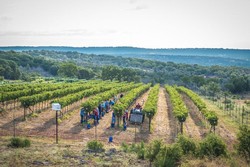 To RSVP, please "purchase" a $0 ticket.
We will meet outside the vineyard fence at 6:45am so we can begin at 7:00am sharp. There are a maximum of 30 volunteer positions available for this harvest. With your help, we hope to finish before the heat of the day arrives! We will provide breakfast snacks, water and then a light lunch and a glass of wine after the work is done. You'll also receive a souvenir t-shirt as a thank you for all of your hard work. Those who wish to do so will also have an opportunity to stomp grapes!
If you plan to attend, please remember to wear sturdy and comfortable shoes, a hat, and sunscreen. If you have them, you can also bring your own pruning shears. We discourage anyone who is severely allergic to bees, wasps, or ants from participating. All volunteers must be over 21.